Choose your visit
The Cave of Fontrabiouse invites you to discover the underground world : several chambers, lake, flowstone… Discover 2 ways to visit safely.

Buy your tickets
To visit the Cave, you can buy your ticket on our website, or directly the day of the visit at the ticket office. For "old-fashioned visit", booking is required.

Getting to the cave
The Fontrabiouse Cave is located near Andorra. The site is located in Capcir, in the heart of the mountains.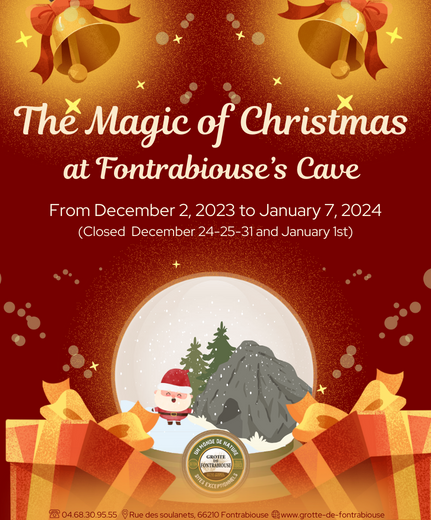 EVENT
The Magic of Christmas !
From December 2, 2023 to January 7, 2024, the Cave of Fontrabiouse puts on its Christmas clothes! A journey through "imaginary country", in the heart of an underground "enchanted forest" will lead you to the "secret village of Santa Claus". Discover or rediscover the Cave of Fontrabiouse illuminated by the Magic of Christmas!
Book now